We are honored to announce the support of NYS assembly speaker Carl E. Heastie for the 2nd annual African Union Expo 2016.
Visit AfricanUnionExpo.org for more information for Merchants and general Attendees or email  info@africanunionexpo.com or phone 646-502-9778 Ext. 8002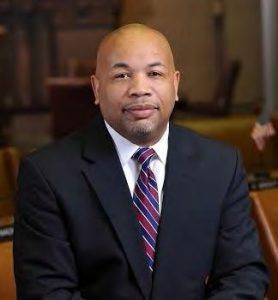 NEW YORK STATE ASSEMBLY
November 15, 2016
Dear Friends:
Please accept my sincere greetings as you gather to celebrate the African Union Expo LLC, Go Africa Capital LLC, and The Go Africa Network Inc.'s 2nd annual African Union Expo 2016.
The proud beginning of this event was to strengthen the economic, social and governmental cooperation between Africa and America. This year's Expo will focus on understanding the importance of a business plan and discovering sources of funding. This unique opportunity for entrepreneurs, startups and companies to engage, interact and learn formative knowledge will help advance the awareness and socio-economic development of Africa through local and international outreach initiatives for the evolving future.
This innovative Expo will highlight and reinforce the economic, political and social ties between the African Union Member countries and the United States of America – bringing together businessmen and political leaders to exchange views and news on promoting trade and investment opportunities. This is an opportunity for government and companies to engage and interact to better understand our evolving futures.
Again, congratulations on your 2nd annual African Union Expo, and best wishes to The Go Africa Capital LLC and The Go Africa Network, Inc. for continued success.
Sincerely,
CARL E. HEASTIE
Speaker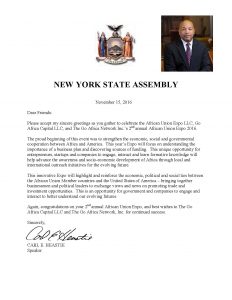 http://africanunionexpo.org/wp-content/uploads/2018/09/African-Union-Expo-Logo-2018-300x156.png
0
0
Dr. Dennie Beach
http://africanunionexpo.org/wp-content/uploads/2018/09/African-Union-Expo-Logo-2018-300x156.png
Dr. Dennie Beach
2016-10-18 07:29:01
2016-10-18 07:29:37
We are honored to announce the support of NYS Assembly Speaker Carl E. Heastie for the 2nd annual African Union Expo 2016